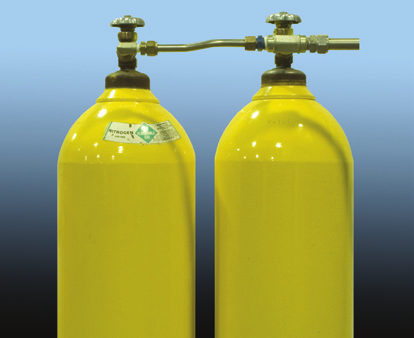 Customers that utilize bulk gas storage often return the storage for refill with gas remaining in the cylinders. Using a gas compressor system allows the storage to be returned at lower pressures since the compressors can operate with pressures as low as 70 psig (0.5 MPa).

Customers who utilize cryogenic storage usually vent gas due to boil-off. A gas compressor system can be utilized to capture the vented gas and store in cylinders for operation.

Typical gases include argon, nitrogen, helium and hydrogen as well as some speciality gases. Normal pressures range from 1,500 to 6,000 psig (10.3 to 41 MPa). Higher pressure compressors are also available. Hydro-Pac's reliable and low maintenance compressors allow customers to save a significant cost on gas
Robust, reliable, low-maintenance design.
Non-lubricated piston. Does not contaminate the process gas.
Custom control and piping systems can be quoted for any machine.
Compressor systems can run unattended and be checked on for periodic maintenance.
Compressors feature an intensifier with electro-hydraulic power units. This eliminates the need for drive air.
Patented free piston design allows for maintenance on the high-pressure seals without removing the hydraulic section.
Water-cooled intensifier allows higher compression ratios which reduces the number of stages.
Hydro-Pac gas compressors work over a wide range of inlet pressures. In many cases inlet pressure regulators are not required.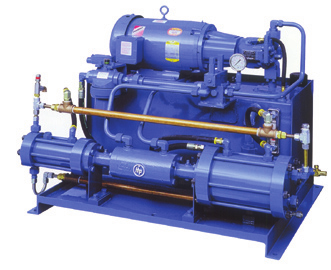 Standard operating ranges for this line are:
Discharge pressures: 1,000 to 12,000 psig
Inlet pressure range: 70 to 6,000 psig
Capacity ranges: <1 scfm to >300 scfm
The LX-SERIES compressor can be used for heavy duty low-pressure applications or gas scavenging (reclaim) application to use all of the available gas in the cylinders.