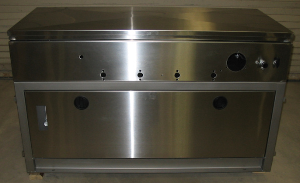 High-pressure homogenizing utilizes fluids at high-pressure with a homogenizing valve to make a mixture of two mutually non-soluble liquids the same throughout.

Hydro-Pac manufactures custom high-pressure homogenizing pumps for discharge pressures of 10,000 to 45,000 psi (70 to 300 MPa). These pumps are used with various fluids and slurries. Designs include abrasion resistant, all stainless steel wet end components.
HIGH-PRESSURE HOMOGENIZING PUMPS
Stainless steel wet ends for processing food grade or corrosive fluids.
Extended spacer design to eliminate oil carryover.
Designs to purge spacers.
All stainless chassis design options for food grade or medical facilities.
Quick change seals.
Special check valves available for slurry solutions.
Custom control and piping systems available to operate the pump automatically.
Flow and pressure control options available.